Smart4Health Platform kick off in the Lisboa and Vale do Tejo region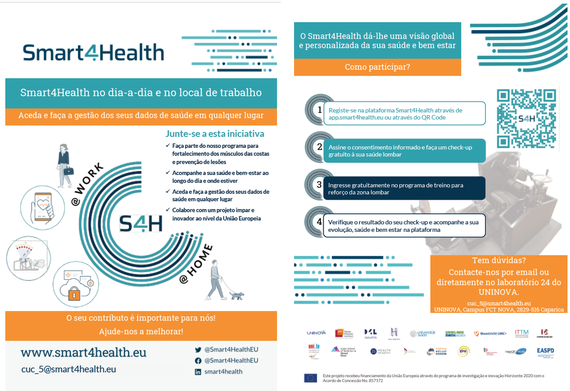 It is with great enthusiasm that we invite you to participate in the Smart4Health project (www.smart4health.eu). Smart4Health is a project funded by the European Union under the Horizon 2020 program whose aim is to develop a citizen-centred health data platform.
Coordinated by UNINOVA, Smart4Health has a budget of 21.7M€ and counts with 18 partners from different Member States of the European Union who join efforts for the development, testing and validation of a platform that allows European citizens to collect, store, manage and share their health data anytime, anywhere. With Smart4Health, European citizens will effectively own their health data and will be able, through the services provided, to access personalized health services as well as contribute to scientific advancement in the health area.
The testing phase of the Smart4Health platform started last March in several places in Europe and has now arrived in the Lisboa and Vale do Tejo region, specifically at UNINOVA facilities on FCT campus. For more information don't hesitate to contact us: cuc_5@smart4health.eu.
We look forward to your participation!